AVB's Pig Iron Production

Sustainable growth since 1990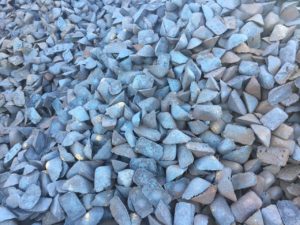 In 1990, Ferroeste Group began the implementation, in Açailândia, MA, of a Plant with a production capacity of 125,000 tons of Pig Iron per year. In 1993, Gusa Nordeste started its operations, with the purpose of taking advantage of the huge mining potential of Carajás and its logistics, as well as the favorable conditions of the port in São Luís.
In 1997, in order to increase its production, Gusa Nordeste built its second blast furnace, thus increasing its production capacity to 255,000 tons per year. The third blast furnace was built in 2005, which increased its production capacity to 360,000 tons per year. Most of this production is exported to North-American companies.
Over the years, Gusa Nordeste, which is committed to the environment, began reusing all waste generated by the plant. In 2006, the company acquired a pulverized coal injection plant, reusing all the fines generated from the charcoal screening process and thus reducing the consumption of granulated furnace coal from the top.
In 2008, in order to reuse the blast furnace gas generated from the Pig Iron production, Gusa Nordeste implemented an electric generation power plant. The Thermoelectric Plant generates twice the energy consumed by the plant through a blast furnace gas boiler. Such gas powers the plant's boiler, where it is totally burned under confinement, thus producing low-cost energy and reducing the flue gas generated in the production of Pig Iron. With the acquisition of the Thermoelectric Plant, Gusa Nordeste became self-sufficient in electrical power.
In 2009, in order to reuse one more type of waste generated by the plant, Gusa Nordeste acquired a slag milling plant, which allowed for the processing of 100% of the slag produced by the blast furnaces, what turned slag into a product that can be applied in the production of cement and fertilizers.
In the same year, Gusa Nordeste achieved self-sufficiency in charcoal, by planting eucalyptus in an area capable of fully supplying the company's demand for charcoal.
Also in 2009, Gusa Nordeste began the implementation of its verticalization project, whose conceptual and basic designs were perfected between 2006 and 2009. This project, called Projeto AVB (Aço Verde do Brasil), represents the company's ultimate step towards the modernization of the steel-making industry, by making the company a manufacturer of long steels.
The project involves the construction of a new blast furnace within AVB's premises, with a production capacity of 300,000 tons of Pig Iron per year. Thus, we will be able to supply 100% of the demand for liquid Pig Iron for the melt shop. The Start- Up of this new blast furnace is scheduled for November 2017.
AVB Project is the world's first truly GREEN steel project, because its production process will not consume any fossil fuels along its chain.
Moreover, the beginning of its production, which is domestic-oriented, is scheduled for 2016 and will cause the company to be fairly independent of its revenues in foreign markets, as well as of the exchange rate variation.
AÇO VERDE BRASIL'S OPERATIONAL DATA
– Production Capacity: 300,000 Tons / year until late October 2017, and 600,000 tons from November 2017.
– Number of Blast Furnaces: 3 (1 in development)
– Coal Fine Injection
– Electrical Power Cogeneration Capacity: 10 MW
– Blast Furnace Slag Grinding: 4,500 tons/month
– Number of employees: 723
Applications and usages…
Pig Iron is a metallic material produced when iron ore, charcoal and limestone are melted together under heavy air pressure. When the combined material cools down, it forms a high carbon product known as Pig Iron. The material that cooled down is rarely used in its pure form, because the large amount of carbon makes it volatile and brittle. This type of iron is usually more refined by means of additional fusions and mixture processes in order to create forged iron, cast iron or steel.